The Smithy, Mealsgate.
This building, now long ago demolished, was situated on the corner of the A595 and B599 to Fletchertown.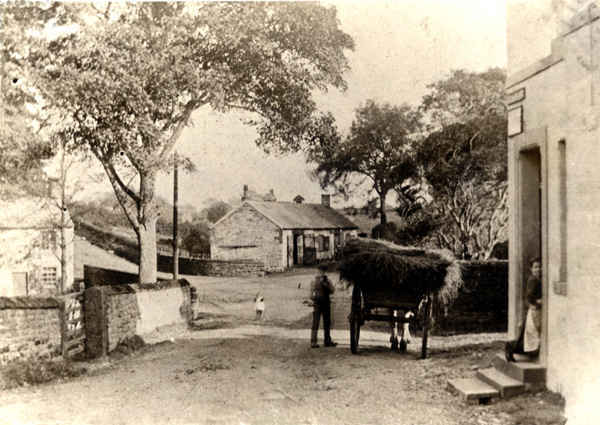 The Old Post Office entrance and steps can be seen on the right and Old Smithy House on the left with The Smithy itself in the centre of the picture.
It is hard to believe that this road pictured here with a horse-drawn haycart is now the busy A595, the main road between Carlisle and Cockermouth.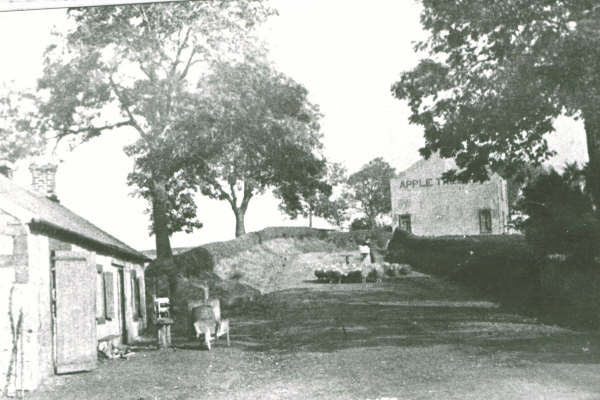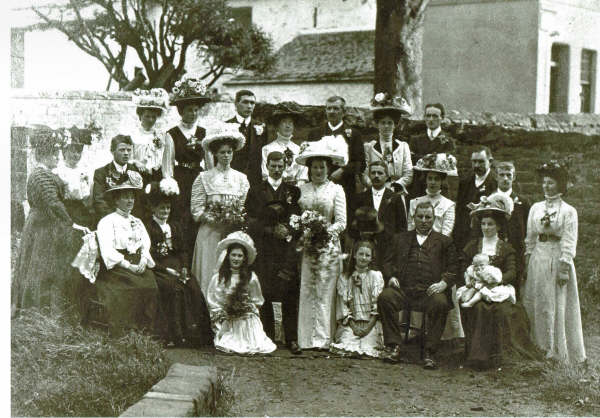 Looking from The Old Smithy up the A595 to The Appletree Inn. The Blacksmith's daughter's wedding 1910.
Julie Edgar, the great, great drandaughter of the blacksmith, George Nicholson contacted me (Feb 2012) giving further information about the above wedding photograph. George Nicholson is the gentleman seated in the front row next to his daughter, Annie Jane with her baby son, George (born 1909), sitting on her knee. George can be seen with his three younger sisters in a later group photograph of pupils of All Hallows School in Fletchertown. Annie Jane was married to William Lowther, seen standing behind his wife in this wedding group. He was killed in the Colliery (2/10/1913) leaving Annie with George (age 4), Jane (age 3) Mary (age 2) and Margaret (4 months). George Nicholson moved in with his daughter Annie when he left the blacksmiths and he died in 1932. The bride in the wedding picture is George Nicholson's daughter, Margaret and the groom is John Nicholson, known as Jack. They went on to have two sons, Jacky and Noel. Noel was killed in World War II in Palestine. George Nicolson's other children were Joseph, Catherine (Cissy) pictured on the back row right hand side next to Robert Braithwaite whom she married before emigrating to Canada, Mary (Polly) in the centre of the back row and Isabella who went to Ireland and is pictured here on the extreme right, standing next to her brother-in-law, William Lowther.
Below: The site of The Old Smithy photographed in 2006