Firm's premises in Nottingham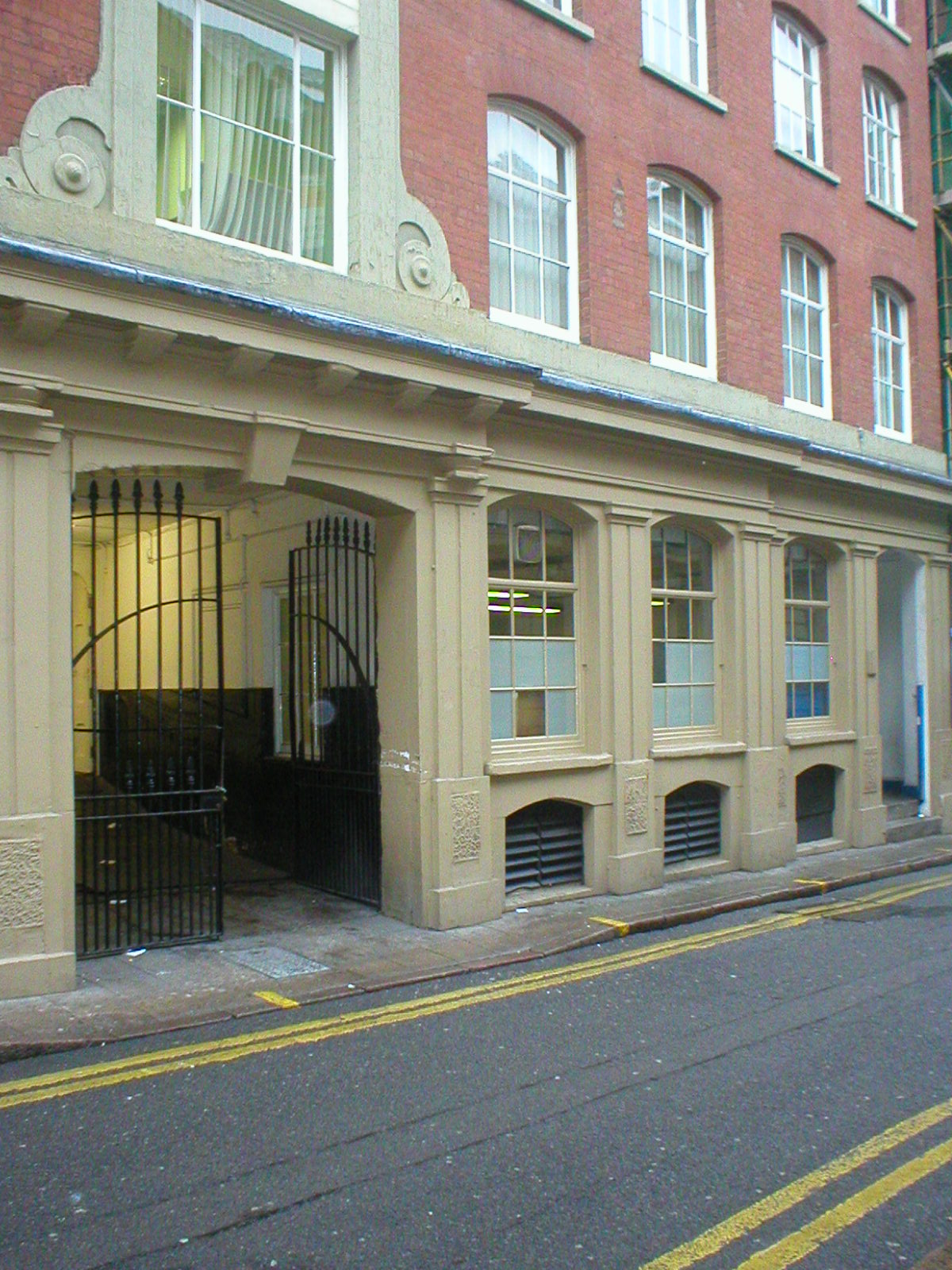 36 Houndsgate, Nottingham
(photographed in 2006)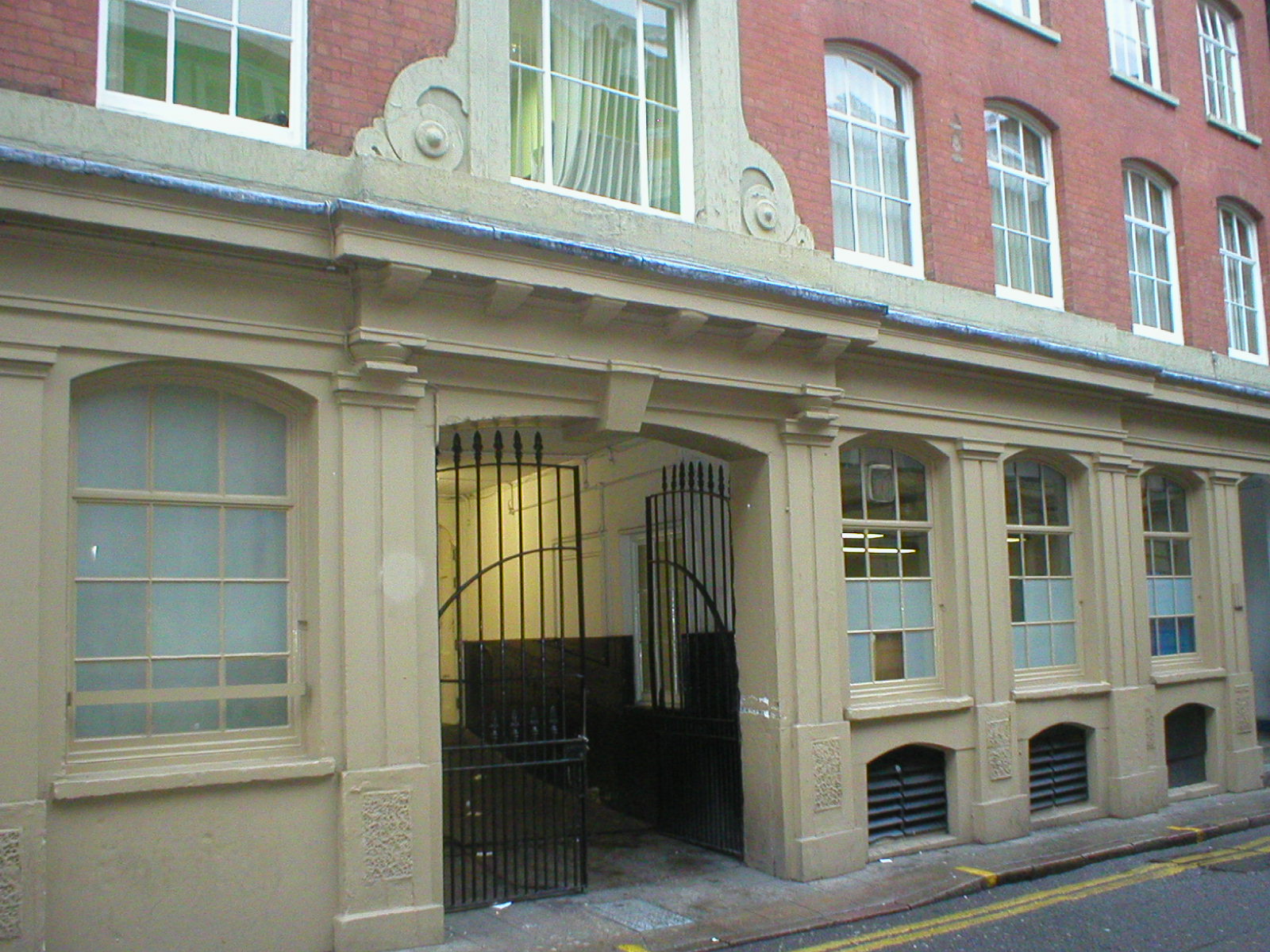 The Late W.G. Ward Esq., Mayor and George Moore's right hand man in Nottingham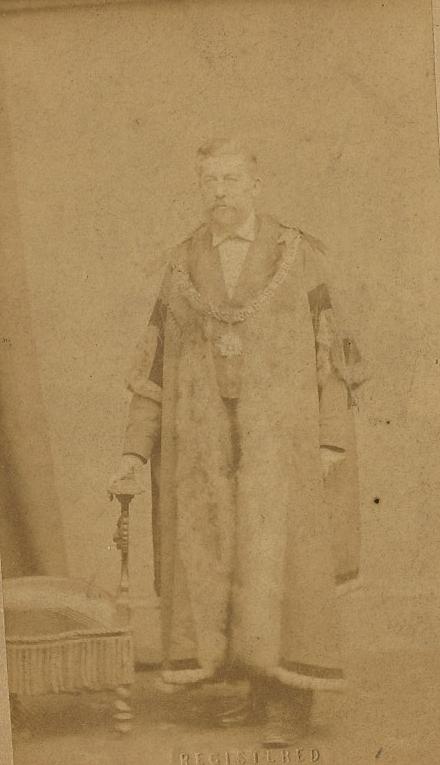 Above: Studio portrait of William G. Ward in his mayoral robes kindly supplied by Charlotte Lee. Below: Handwritten notes to be seen on the reverse side of the studio portrait of Nottingham's Mayor Ward.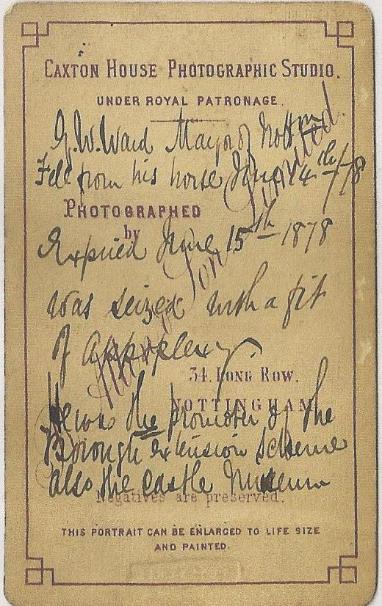 Further biographical details of William G. Ward's life are available here together with supporting evidence.
If anyone reading this has any information about Mr Ward and the Nottingham house of Groucock Moore & Copestake, I should be delighted to hear from them. Email
Nottingham Connections
Your host, Colin Jackson, who is responsible for the contruction of this website, was born in Nottingham. Nottingham has been home to many diverse industries over the years. Raleigh Industries, John Player, Boots the Chemist, and, of course, the lace trade, an entire area of the City Centre being called The Lace Market. George Moore made his fortune in the lace trade for which Nottingham is so famous. In 1845, after George Moore returned from his visit to the United States and Canada, his firm of Groucock, Copestake & Moore built a lace factory in Nottingham. About three hundred and sixty women were employed in the factory and around thirty men in the warehouse. On more than one occasion George Moore was invited to stand as Member of Parliament for Nottingham but declined to do so considering himself, according to Smiles, inadequately educated to do justice to the position.
The Illustrated London News dated July 6 1878 reported the following: Mr William G. Ward, born at Nottingham in 1825 and a former Mayor of Nottingham, was appointed at the tender age of twenty years to the management of important departments of the business of Messrs Groucock, Moore and Copestake under George Moore and, very shortly afterwards, was placed at the head of the Nottingham house of that firm. Mr Ward was twice elected as Mayor, once in 1871 and again in 1877. Mr Ward was patently quite active in politics and in 1874 a paper written by him and read before the literary section and general members of the Nottingham and county liberal club, and to delegates from operatives' trade societies was published, together with seven nights of discussion of the paper between capitalists, trades' unionists, representative workmen, and others; and Mr. Ward's reply. The Chairman was Mr. William Whitehead. This book has been digitised and can be either downloaded or read on line by clicking here.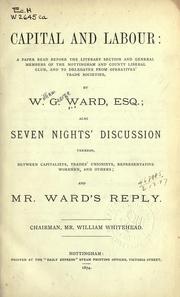 Just prior to the opening of Nottingham Castle by the Prince and Princess of Wales as an Art Museum for the Midland Counties, Mr W. G. Ward, Mayor of Nottingham died. It was said that the success of the scheme has been chiefly owing to the public spirit and indefatigable exertions of Mr Ward. Whilst riding with his eldest son near his house on 14th June 1878, Mr Ward had an apoplectic siezure, and falling from his horse, sustained a fractured skull from which he died the following day. He was 53 years of age. An obituary notice appeared in The Nottingham Evening Post dated 15th June 1878.
Dr T.D. Harding, author of 'Correspondence Chess in Britain and Ireland' wrote to me recently informing me that William G. Ward was a Victorian chess player of some note and that he is mentioned in his book. Here is the gist:
Between 1872 and 1876 the main Nottingham Chess Club was involved in at least three two-game matches, conducted chiefly by Ward and Sigismund Hamel (1823-97), chess editor of the Nottingham and Midland Counties Daily Express.
When I was last in the city, I was looking at

Match by correspondence between Nottingham & Ipswich

, 1875, in Nottinghamshire County Archive, ref. DD/MI/271/1.
Wa

rd apparently never entered chess tournaments and few games by him have survived, although writing his obituary in The Derby Advertiser dated 16th August 1878, the chess columnist Fred Thompson recalled a private match Ward had played some years earlier, after a challenge from another mayor.

He added some circumstantial detail:
"In the match against Cambridge he had sacrificed much for a fine but critical attack, and one evening while playing at lawn tennis (at which he was one of the best players in Nottingham) he thought he could work it out to a finish that Cambridge would not anticipate. He left his tennis ground for his chess board, and the result was a mate in ten moves so complicated that even when announced, Cambridge failed to find it, and had to require explanation. After that Nottingham found provincial clubs chary of her challenges."
I recently contacted Charlotte Lee who had appealed for information about this former Mayor of Nottingham's family, with whom she believed her own family had a distant connection. Charlotte very kindly sent to me a scan of an original studio portrait of Mayor Ward in his mayoral robes as well as a scan of the hand-written notes on the reverse where, for some unknown reason, he is referred to as G. W. Ward but, given that 'apoplexy' is mis-spelt, this is maybe just a transcription error by the writer. These scans can be viewed in the adjacent column.
Further evidence of George Moore's firm in Nottingham
Lascelle & Hagar's Nottingham Directory of 1848 has an entry for Groucock, Copestake & Moore located in Houndsgate. The Manager was Marcus Copestake.
White's Directory of Nottingham for 1864 has an entry for Copestake, Moore, Crampton & Co describing the firm as Lace manufacturers located in Houndsgate.
The Morris Directory of Nottingham for 1877, the year following George Moore's tragic death, has an entry under Lace Merchants for Copestake, Hughes, Crampton & Co of 36 Houndsgate in Nottingham. White's Nottingham Directory for 1894 lists the firm of Copestake, Lindsey, Crampton & Co Lace manufacturers and Merchants, still based at 36 Houndsgate.
Canon Morse, the vicar of St Mary's Church in Nottingham's Lace Market, and his wife were old friends of Mr and Mrs George Moore and were visiting Whitehall in 1879 and present at the ceremony of laying the foundation stone for The George Moore Memorial Hall, performed by Mrs Moore. Indeed, Canon Morse brought the proceedings that day to a close by saying a few well chosen words on behalf of Mrs Moore