William George Ward (1825 - 1878)
Biographical Details and supporting evidence.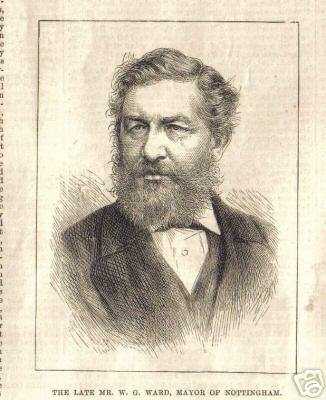 Bromley House Library
Bromley House is a private library which still exists on Angel Row in Nottingham. Their records show that Mr William G. Ward (also referred to as G.W. Ward) was a subscriber and a trustee of this Library. According to these records, Mr Ward, although born in Nottingham, was raised in nearby Stapleford and he was first educated at Trowell Moor School and then continued his education with Mr Biddulph at the School in Willoughby House on Low Pavement in Nottingham. The records state that having become proficient in shorthand, Mr Ward increased his earning power by entering into employment with Copestake, Moore & Co in Houndsgate, rising to become Manager there. At some stage, he entered into partnership with Arnold-born William Cope, a clever mechanic familiar with lace machinery, and together they established the firm of Cope & Ward.
William George Ward was born in 1825 and was (possibly) the eldest child of George Ward and Martha Goodhew (Goodherd?). His siblings were John George Ward (born 1828), George Frederick Ward (born 1831) and Martha Elizabeth Ward (born 1833). Source: International Genealogical Index .
1851 Census (Click on to view)
In 1851 we find William George Ward, aged 25 years, at 8 Carlton Street in the house of Dorothy Croft, a 40 years old widow described as a Lace Dealer. Mr Ward's relationship to the Head of the household is described as "inmate" and his occupation is given as Assistant Lace Manufacturer. I think Dorothy Crofts was actually William's future mother-in-law and that he married Jane Crofts in 1852.
Carlton Street is situated not far from Nottingham City centre on the edge of the Lace District. It runs into Goose Gate where the first Boots herbalist shop was opened by Jesse Boot in 1849.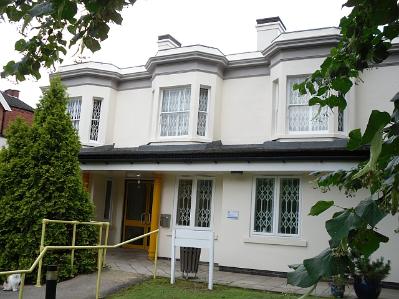 6, First Avenue in Sherwood Rise now Mandala House in 2012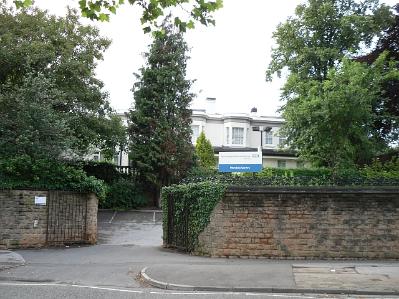 1871 Census (Click on to view)
In 1871 we find Mr Ward and his family of now seven children liiving at 5 Newcastle Terrace (later Drive) with five live-in servants. This is a most prestigious address on the edge of the Park Estate and is a large property close to Nottingham Castle and enjoying commanding views to the West of the City and directly overlooking the Nottingham Lawn Tennis Club courts. It was certainly a case of the rich man in his castle! Today, the house is in multiple occupancy, being divided into flats, and a row of relatively modern houses has been built between the houses on Newcastle Drive and the tennis courts below. This is still a prime location and a three bedroomed flat within No 5 is currently for sale at £435,000. Take a look inside this flat by clicking here.
1881 Census (Click on to view)
William died on 15th June 1887 after an apoplectic fit and falling from his horse close to the foot of Castle Rock whilst riding the previous day. Four years after his death, in 1881 we find his widow, Jane still resident at 5 Newcastle Drive with three of her children and staff .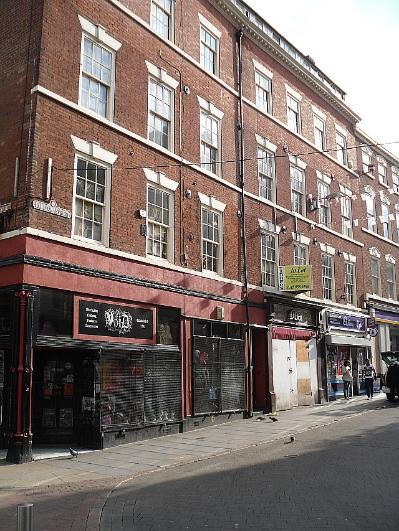 Carlton Street in 2012
1861 Census (Click on to view)
By 1861 we find Mr Ward, now aged 35 and nine years married, living with his wife Jane, aged 29, and five children and five servants at No 6 First Avenue in Sherwood Rise, a grand house indeed overlooking The Forest Park and Recreation Ground, the site today of Nottingham's famous Goose Fair. Today this property, now known as Mandala House, is occupied by a Dept. of the NHS dealing with mental health issues.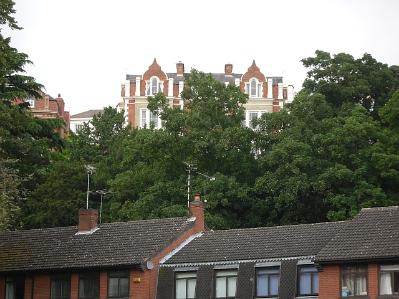 No 5 Newcastle Drive : Above - Rear elevation : Below - Front