Self-elevated Men - George Moore, Esq.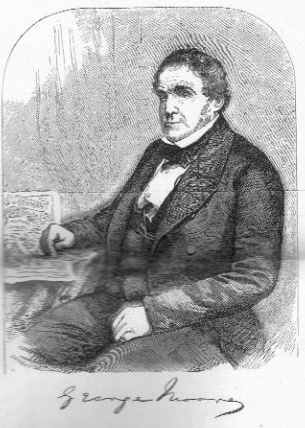 Portrait of George Moore in The British Workman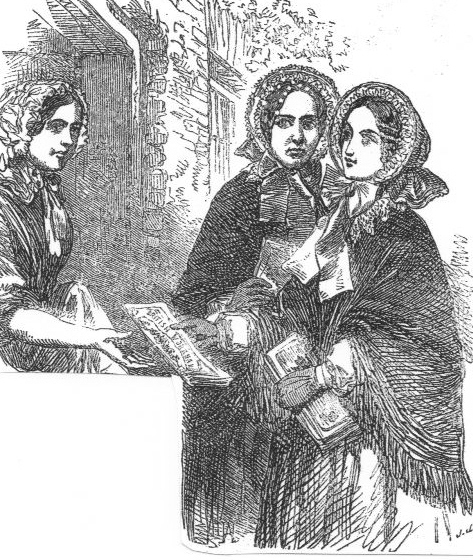 Distribution of The British Workman
Article from 'The British Workman' 1st February 1857
We are anxious to impress upon the minds of the thousands of hard-handed working-men who monthly peruse our pages, that it is one of the peculiar blessings of Great Britain, that there is perhaps no-one, however humble his position in life, who may not, by industry and perseverance, under God's blessing, elevate himself in society.
No nation in the world can boast of such a noble array of Peers, Baronets, Knights, Magistrates, Merchant and Manufacturing Princes, who have sprung from the industrial ranks of life.
In order to inspire our readers with an earnest desire for self-improvement and the wise employment of their leisure hours, we purpose giving, occasionally, portraits, with brief notices of well known characters, who, although by the Divine blessing upon their industry, are now ranking amongst the wealthy of the land, are not ashamed to speak of their early days.
We have much pleasure in commencing these notices with the portrait of George Moore, Esq., one of the Merchant Princes of the City of London, partner in the celebrated firm of Messrs. Copestake, Moore & Crampton, of Bow Church Yard.
At a recent festive gathering of the Commercial Travellers' School, the chairman, Sir Edward Bulwer Lytton said,- "Mr George Moore, the treasurer of this society, is an emminent example of the qualities by which wealth is obtained, and of the virtues in the exercise of which it should be spent. He may well be pround in being the architect of his own fortune. When he came to London he was but seventeen years old, and was without a friend. At the age of twenty-two he became a traveller for an eminent firm in the lace trade. His zeal and his abilities founded his reputation. That reputation led on to fortune. He became partner in that great firm which he has since so conspicuously advanced. Well has he since used his advantages, by doing all the good in his power, in promoting charities for the relief of distress and for the education of the young. He has thrown his whole heart and soul into services of that nature with as much ardour as if were again building up a fortune for his own children."
Mr Moore was a Cumberland youth, and we rejoice to find that he takes a special interest in the diffusion of pure literature amongst the working classes of his native county. He established the Permabulating Library at the place of his birth, and he is now originating
A BOOK-HAWKING SOCIETY FOR CUMBERLAND.
We have to acknowledge with thanks the encouragement which he has afforded to our labours by the circulation of many thousand copies of the British Workman and by prsenting Yearly Parts* for the railway waiting rooms on the various lines of railway in Cumberland, Westmoreland and Northumberland.
In Ragged Schools and Reformatories for Criminals, Mr Moore now takes an active part, and we pray that his life may be long spared to aid these and many other philanthropic enterprises.
*These Yearly Parts are strongly bound in cloth for this purpose.
I find the tone of 'The British Workman' in general to be typically pro-establishment - and- in spite of its title - very much in support of the wealthy Victorian's stance of keeping ordinary workers in their place and telling them that they should be content with their lot - which is arguably what the Church did. It kept the workers down! Here are snippets from 'The British Workman' that maybe illustrate this point.
"Are you not surprised to find how independent of money peace of conscience is, and how much happiness can be condensed in the humblest home? A cottage will not hold the bulky furniture and sumptuous accommodation of a mansion, but if God be there, a cottage will hold as much happiness as might stock a palace."
"When we fancy others better off than ourselves, it may only be because we know our circumstances, but do not know theirs."
"Lord Byron, in speaking of his life, said, I once attempted to enumerate the happy days I had lived, which might, according to the common use of language, be called happy. I could not make them count more than eleven, and I believe I have a very distinct remembrance of every one. I often ask myself whether between the present time and the day of my death, I shall be able to make up the round dozen."