Article from 'The British Workman' February 1st 1857.
We have been much interested by hearing from a gentleman who recently travelled in Cumberland, of a happy looking old man who was wheeling along the high road a novel looking burden. On enquiry, it proved to be the Perambulating Library ; the large box containing a supply of books which the messenger was taking from Mealsgate to Bolton New Houses. On depositing his burden, he would then have to take the books which had been in use at Bolton New Houses forward to another village, and so on for a circle of eight villages, comprising in addition to the above, Ireby, Torpenhow, Bothel, Bolton Low Houses, Sandal, Bolton Gate and Uldale. As some of our readers may wish to imitate this plan of diffusing good literature amongst the rural population, we have procured a copy of the Rules, from which we make a few extracts:-
"The management shall be vested in a Committee, consisting of the Patron (Sir Wilfrd Lawson, Bart.) the President, George Moore, Esq., London, the Vice President, the Treasurer, the Clergyman, and other Ministers of the district, &c".
"A Librarian shall be appointed at each station, to receive the Books, and to lend them out to the Members of the Society".
"No Books shall be admitted into the Library either by purchase or donation, until the same shall have been examined by the Committee".
"Each person on paying an annual subscription shall be furnished with a list of the rules, &c., &c., also with a Member's Card".
Perambulating Library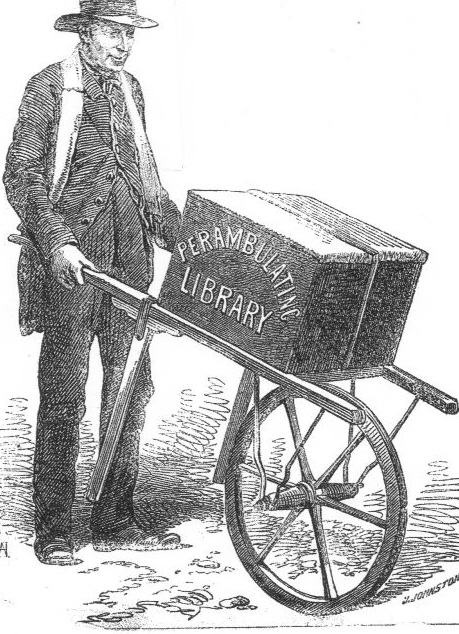 Circulating Libraries
Following the recent acquisition of an original Edwardian revolving two-tier bookcase for the George Moore Memorial Hall, I came across this cartoon and amusing pun on the term 'circulating libraries'.
This clipping was taken from The King paper dated June 2nd 1900.
Frank Holland, an artist, worked as a cartoonist for Lord Harmsworth from the 1890s until the First World War. His work appeared in various magazines and newspapers, including the Daily Mail.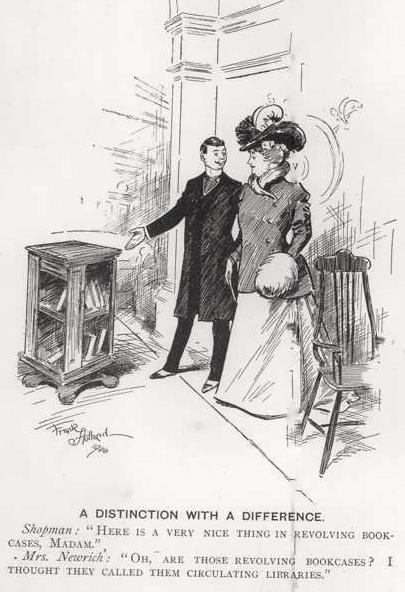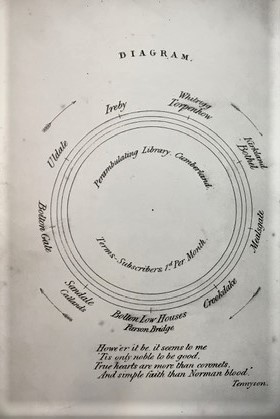 Timothy Cottingham of The Old Reading Room in Torpenhow has very kindly provided me with the above plan for the circulation of books around certain Cumbrian villages including Mealsgate. The original document is in the Jackson Library in Carlisle.