Miss Charlotte Lowes aka Mrs Johnston aka Mrs Deans
After attending a talk given by Mrs Jean Scott-Smith to the Caldbeck Local History Society in July 2011 on 'The Life of George Moore' whom she said was a distant cousin, I contacted her in order to try and ascertain her precise relationship to George Moore. During an exchange of emails, Mrs Scott-Smith happened to mention that she also had family connections with another quite famous Cumberland character, the actress Mrs Charlotte Deans nee Lowes also known as Mrs Johnston. Frankly, at that point in time, I had never heard of Mrs Deans although I have subsequently discovered that she has some notoriety. I recently purchased, following a search on ABE books, a facsimile copy (published 1984) of her memoirs signed by Frances Marshall (15/4/1987) who wrote a fascinating commentary to the original autobiography. The original work was written when Charlotte Deans was aged 70 years and published in 1837, some 22 years before her death from senile debility on 14th March 1859.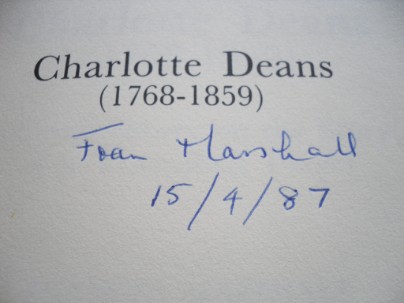 Writer and award winning playwright, Maureen Lawrence who lectured at Bradford & Ilkey College in the 1990s wrote a play entitled 'Once a Lady' based on the memoirs of Charlotte Deans. The synopsis to this play states:
When Charlotte Dean was seventeen she fell in love with an actor.

Her horrified parents locked her in her room but she escaped.

She

and

her lover ran away to Gretna Green

and

then Charlotte joined a travelling theatre group
LINK Read Reviews of the play and what Maureen Lawrence has to say.
Book acquired from September Books, Church Stretton for £9.75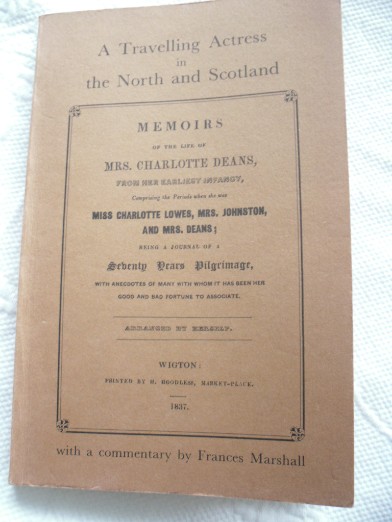 The Autobiography is entitled:
MEMOIRS
OF THE LIFE OF
MRS. CHARLOTTE DEANS,
FROM HER EARLIEST INFANCY,
Comprising the Periods when she was
MISS CHARLOTTE LOWES, MRS. JOHNSTON, AND MRS DEANS
BEING A JOURNEY OF
SEVENTY YEARS PILGRIMAGE,
WITH ANECDOTES OF MANY WITH WHOIM IT HAS BEEN HER GOOD AND BAD FORTUNE TO ASSOCIATE
ARRANGED BY HERSELF
The George Moore Connection
Those of you who have explored this website in some depth, will know that I am fascinated by links and connections between individuals, places and events. Evidence that it is indeed "a small world", is afforded by my investigation into the relationship between George Moore's family and that of the infamous Mrs Deans. Charlotte Dean's father was Henry Lowes (1740 -92), Attorney at Law in Wigton. Born in 1768, she was his third child born to his first wife Alice Howard (1730-76). Henry Lowes was the fourth child in a family of nine born to William Lowes of Cockbridge and his wife Mary nee Appleby who kept the Cock Bridge Inn near Aspatria. Their first child, William Lowes of King gate (b. 1733) was, of course, Henry Lowes's older brother by seven years. This older brother is recorded as having nine children, the eighth being Peggy Lowes (1749-1812) who was George Moore's mother. So, Peggy Lowes was a niece of Henry Lowes, the Wigton Attorney and Peggy and Charlotte were first cousins. This means, of course, that George Moore was Mrs Charlotte Deans' first cousin once removed. You can see the family connections in detail by visiting the Family Tree. Although Charlotte was about 38 years George's senior, they were contempories and walked the planet together for over 50 years. Strange then that such a close relative with such notoriety should fail to even get a mention in Smiles' biography of George Moore! Perhaps, she was regarded as the black sheep of the family, persona non grata and, as such, air-brushed out of the respectable family history. When I have read the Memoirs, I'll return to this page and give you my further thoughts on this! Certainly, going by what Charlotte Deans herself wrote in the forward to her memoirs, there was scandalous ruin in her life which she was keen to counsel others against.
"My desire in placing on record my failings, and holding to view the sinuous progress of a chequered pilgrimage, is a wish to be useful in endeavouring to prevent the misfortunes of others by thus exhibiting a beacon to warn the unwary; but 'In vain you'll mark what brought my ruin on, unless by noting that you avoid your own'.