'Once a Lady', a play by Maureen Lawrence based on the life of Charlotte Deans.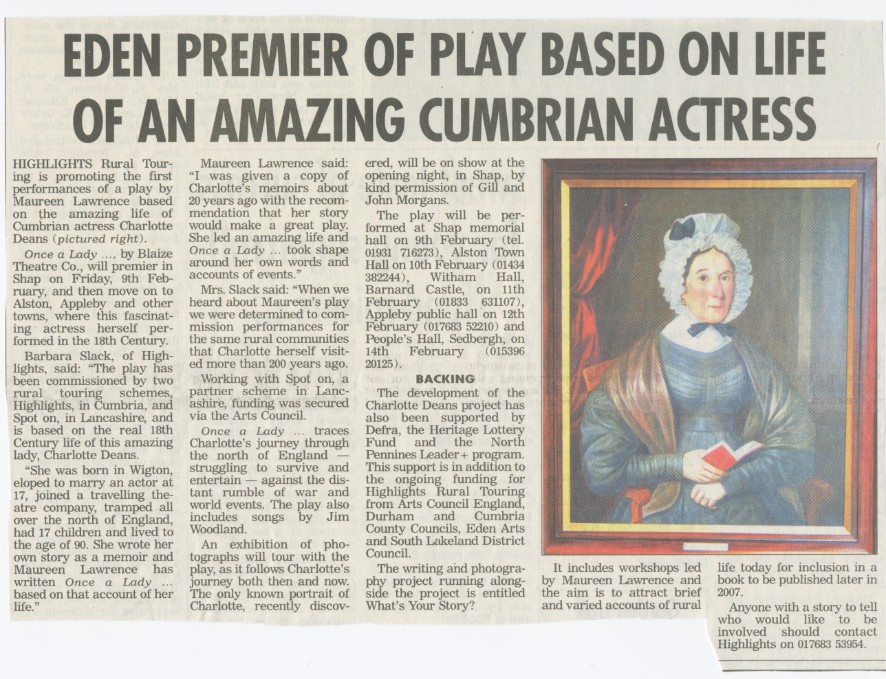 TRANSCRIPT OF ARTICLE IN THE CUMBERLAND AND WESTMORLAND HERALD (Feb 15th 2007)
Tale of travelling player who walked from Alston to Shap

ALMOST 200 years ago, a group of travelling players walked from Alston to Shap to perform, among them an actress named Charlotte Deans. She recorded that no locals attended the performance due to the presence of the militia, and the soldiers themselves were busy drinking and recalling past battles.
On Friday night, Shap was able to redeem itself when the opening night of a newly commissioned play about Charlotte Deans' life was a sell-out. The play, written by Maureen Lawrence, is entitled Once a Lady, and has songs by Jim Woodland. It was performed by the touring company Blaize Theatre in Shap memorial hall.
The play opened with the playwright Maureen Lawrence handing a scroll representing the licence to perform to the travelling player William Johnstone (John Barber). The 17-year-old Charlotte Lowes (Rachel Dale) is captivated by this actor and goes to the performance to meet him.
GRETNA GREEN
This is a case of love at first sight, but her father, a prominent Wigton lawyer, and his wife are angry and lock Charlotte in her room. She manages to escape, elopes to Gretna Green with William, and her family disinherit her. Their life on the road is a hard one, and Charlotte joins the performers as they travel all over the north of England. For a short time they settle and take a public house in Wigton, but their business fails and they are forced back on to the road.
Following her husband's death, Charlotte and her six children continue to travel with a theatre company, but actors are not considered to be respectable members of society and it soon becomes clear that Charlotte needs the protection of a husband, and she marries Thomas Deans (Craig Maxwell Thornton), a fellow actor, several years her junior.
Charlotte bears another 11 children, sometimes continuing to perform until she was about to give birth. One of her children was born backstage during a performance and another under a hedgerow. They suffered extreme hardship, often hungry and penniless, beset by bad weather and threatened by vigilantes who tried to shut down their shows.
Charlotte continued to act until she was 70 years old. She then wrote her story and published it in order to provide the means to furnish a small cottage for her old age. She lived to be 90. The play ends with the aged Charlotte (Jill Myers) meeting her young self and recalling her eventful life.
STRUGGLE
Rachel Dale truly became Charlotte, portraying her spirit and determination, and her humour which survived despite a lifelong struggle. John Barber was the charming and charismatic William with his twinkling eyes and ready smile, a true Romeo to Charlotte's Juliet.
Jill Myers deserves mention as she portrayed 11 characters, from the vindictive stepmother to the ever-cheerful actor Stanley, with a quick change of costume and facial expression.
Craig Maxwell Thornton performed the more serious roles, including those of Charlotte's father and brother, as well as her caring second husband, Thomas Deans.
The audience was captivated by this amazing woman and her story, and the performance received rapturous applause. There was an opportunity to view display material and the only known portrait of Charlotte Deans, which had been brought to Shap especially for the opening night by the owners, Gillian and John Morgans.
The book Charlotte wrote is little known, and only a few copies survive, but it was the inspiration for this play commissioned by the Northern Consortium of rural touring schemes, which will tour in the North. It forms part of the Highlights Rural Touring program, and the opening night was hosted by Shap Community Development Centre.
The Charlotte Deans project has inspired the scheme "What's Your Story?", designed to enable people to record their own stories of life in rural Lancashire, Cumbria and the North Pennines.
A writing workshop was held at Shap two weeks ago, led by Maureen Lawrence, the playwright, and further workshops are planned. For details, call 017683 53954. All work submitted will go on a website and chosen work will be published in a book due to be launched in May, 2007, which will tour with an exhibition of Charlotte's life across the rural north of England.
Anybody who would like more details should contact 01254 614965 or visit the website, whatsyourstoryntlworld.com.
JEAN SCOTT-SMITH


Read below what Maureen Lawrence herself has to say about the Charlotte Deans' Story
You may need to adjust the zoom level in your browser to read the small print.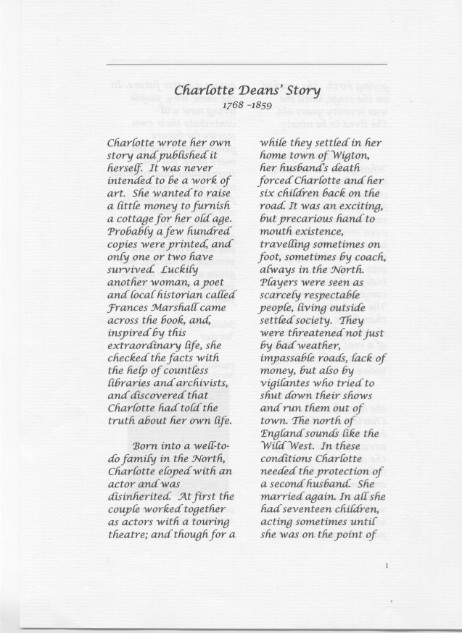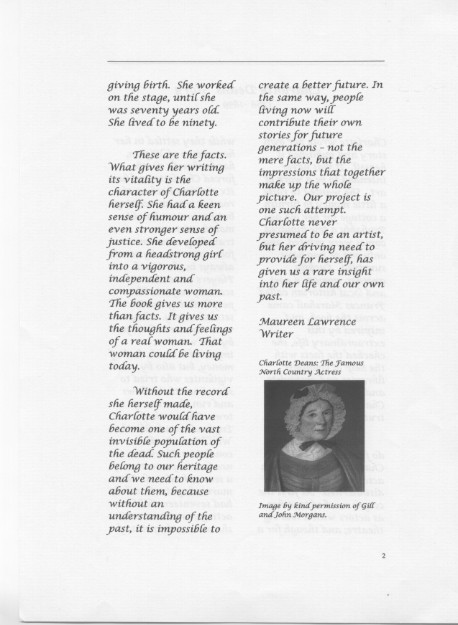 Newspaper reports and reviews of 'Once a Lady'
(All clippings kindly provided by Mrs Jean Scott-Smith)
Below from the Cumberland and Westmoreland Herald dated 17/2/2007