The Northfleet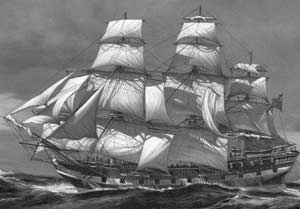 On 22nd Jan.1873 The Northfleet was lying at anchor off Dungeness. There were 379 persons on board, most of whom were railway workers on passage to Tasmania to construct the Tasmanian railway. Her cargo was mainly railway iron. Her lights were burning brightly and the night was clear. At about 10.30pm, the Spanish steamer Murillo, 300 tons, Capt. Berrute collided at speed with the anchored ship, most of the passengers being asleep below. The Northfleet was struck amidships and cut down to the waterline, the Murillo without waiting to ascertain the extent of the damage made off in the darkness.
The Northfleet, a wooden passenger ship built in 1852, under the command of Captain Knowles, was in collision with a Spanish steamer off Dungeness on 22nd January 1872 and sank with the loss of 320 lives. George Moore sat on the Committee to consider claims arising out of the wreck of The Northfleet but was over-ruled in his proposal to distribute compensation in an equitable manner. In the event, although she had financial means, a seventh of the entire victim fund was awarded to the Captain's widow, one of only a few women to escape in a lifeboat. A full account of the tragedy can be read here
http://www.theshipslist.com/ships/Wrecks/northfleet1873.htm
George Moore was a supporter of The Lifeboat Institution and after his death, by way of a tribute to him, his employees at Bow Church Yard in London raised a sum of money which was used to purchase a lifeboat.