Underprinted and Perforated Stamps
Certainly, the first to apply to the Post Office for permission to have stamps perforated was Messrs. Copestake, Moore, Crampton and Co., who, in a letter of 23 October 1867, asked the GPO a permission to underprint stamps on the back and asked for permission to perforate stamps.
This request met with a favourable response from The Post Office and the Postmaster General issued the following General Instruction to Postmasters:
March 1st, 1869
POSTAGE STAMPS.
In consequence of representations made to the Post Office by various firms that their Postage Stamps are purloined by persons in their employ, the Department has recommended that the Name or Initials of Firms, etc., be perforated through the Stamps, so, that, inasmuch as the Sale of such Stamps would be thereby rendered difficult, the temptation to steal them might be lessened or altogether removed. Postmasters will take care not to purchase any Postage Stamps thus marked which may be offered to them for Sale.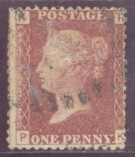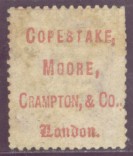 This is a 1d lake red which is underprinted with the name of the firm. Some philatelists collect underprinted stamps.


This stamp is both perforated and underprinted which, I am given to understand, makes it quite rare and especially collectable.
This procedure of underprinting with the name or perforating with the initials of the firm effectively prevented employees from pilfering stamps and selling stamps back to The Post Office (which was allowed in those days). I have a Copestake Moore Crampton & Co underprinted stamp in my collection of George Moore related memorabelia.